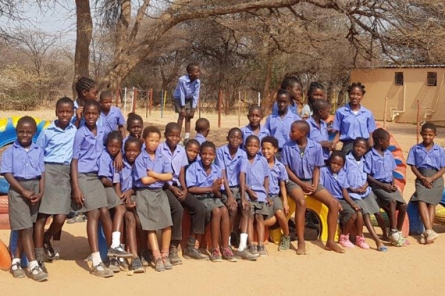 A strong believe of the Oelofse family is to lay a good foundation for education and create opportunity for Namibias children.
They established the Mount Etjo Private School in 1993.
The school was opened by Namibias first president, Dr Sam Nujoma. Many children graduated from this school, following careers as medical nurses,geologists, accountants and engineers. Over 30 children between the ages of 6 and 12 years currently attend the school under supervision of our two dedicated and excellent school teachers. Meals, school equipment, educational toys and much more is provided by the Oelofse family.
Currently, 4 former students of Mount Etjo Private School have been selected for the "Amy Bell Scholarship", enabling them to pursue an academic career up to university level, all expenses covered. Frankiman, Issaskar and Albertina are at high school in Otjiwarongo, whereas Isabella is studying marine biology in Windhoek. Our gratitude goes to Amy, Ellen and Larry Bell who support children across Africa with an education.
Visits to Mount Etjo Private School may be arranged during break time at 10h00 am (please request appointment at reception).